A LETTER FROM THE PRESIDENT OF AIP
06/05/20 – AIP understands the anxiety Americans feel at this time, and with well over 100 years of industry experience, we're here to help. We welcome all questions and are willing to share our knowledge to find solutions for your Portable Power, Backup Power, Prime Power and Emergency Power needs.
We are making a commitment to be available daily between the hours of 6PM EST and 9PM EST – 7 days a week for the next 30 days.
You have questions…We have answers, America. Let's work together.
Click here to contact one of our engineers.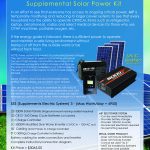 – AIP Supplemental Solar Power Kits
– AIP Supplemental Solar Power Kit Accessories
– AIP SES Energy Guide
– Consumer Finance Options
COVID RELIEF ANNOUNCEMENT – SUPPLEMENTAL SOLAR POWER KITS – 3/18/20
American Independent Power LLC understands the fear and apprehension so many of our fellow citizens are experiencing as we work together to overcome this global challenge.
As a provider of medium and large-scale Electric Power Production equipment, we are aware firsthand of the average power needs in short to medium term survival energy requirements.
Although our products are of a proprietary nature, our techs have assembled 3 distinct industry standard Kits for the average home owner to supply so that, should the unthinkable happen and utility power is interrupted for brief or even extended periods, everyone who participates in this program will have the ability to operate critical items for extended periods of time without worrying about fuel for generators, the risk of going out and searching for fuel or power generation after some unexpected announcement is made or worse, having no ability to power the basics at all.
After considering the most important items, (refrigeration, cellular devices, Laptop computer, CPAP, and small oxygen supply) we sized 3 systems to accommodate these needs on a daily basis. Power management will be the key as defined by the easy to use and understand guide that will accompany each system Kit.
AIP will make these systems available with financing at just over material cost through 2020 as a service to the amazing citizens of this great country.
We encourage everyone to be prepared at the basic level in all things and take care of one another as we brave this chapter in our history and emerge victorious.
May God bless each one of you and May God bless the United States of America.
President


American Independent Power LLC
1464 Oakdale Rd.
Westmoreland, TN 37186
Office: 866-798-4481
Cell: 863-370-1186
E-mail: brucet@aipowerllc.com