Containerized Commercial CSPVMD Systems: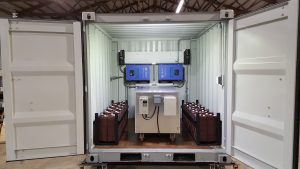 AIP/NCC is offering specifically sized systems for both Grid tie and off grid applications commercially. CSPVMD systems can be placed in a variety of locations and service scenarios. From manufacturing, to retail store applications, CSPVMD can greatly reduce the load on the local utility grid and provide secure uninterrupted electric power long term.
Off-Grid CSPVMD System:
(Standard System Design – PN / 24KW-OG-24P
Total 24kW available:
This unit is housed in an 8' x 8' x 8' Cargo Conex Container. It has an output of 12kW (54 continuous amps) and can accommodate a designed Max load of 113kWh/day.
System Specifications:
(2) 12kW Inverters
(1) 8' x 8' x 8' Conex
(20) 400Ah deep cycle batteries
(2) Battery Racks
(1) 1200W Mag-Drive
(2) Midnight 150 Classic charge controllers
(1) HC-65 LED overhead light
(1) 240VAC / 100 Amp External Service Panel (for connection to host service panel)
Estimated weight 4450lb (stated weight does not include panels or racking – Containerized system only)
"Climate Control elements TBD based on geographic placement"
Operational Description:
24 Solar Panels in (2) 12 panel arrays supply daily charge requirements to both battery banks
12kW Inverter on left is primary supply to host site at 240VAC as supplied directly from left battery bank (10 batteries in series parallel for 48VDC output)
12kW Inverter on right supplies 240VAC to Mag-Drive which has a timer set to supply charge to Left Battery Back at night (10 batteries in series parallel for 48VDC output)
12kW inverter on right is also tied to input of 12kW inverter on left as backup in the event that the host load exceeds capacity of battery bank on left. In that event, the onboard transfer switch in the 12kW inverter on the right switches to the inverter on the left which is supplied by battery bank on the left.
NOTE: All off grid systems should be monitored for max load per day in conjunction with weather conditions. Daily supply is calculated on 6 hours of sun during any given day and protracted inclement weather (overcast/rain/snow) affects the performance and subsequent charge rate. Monitoring the hourly load is important (not adding load without calculating the Ah effect) has risk of battery depletion for the day. Additionally, extended inclement weather events (2 or more days) should result in managed energy consumption by host. I.e., operate critical systems only for that period.
Should host require additional energy for increased loads over time, additional batteries and panels may be added.
Consult your CSPVMD dealer for details.